Melbourne Cabinet Makers
As cabinet makers in Melbourne, Carlton Cabinets specialises in custom building modern kitchens, bathrooms, laundries, wall units and associated cabinets.
As custom cabinet makers, we can:
Build almost any type of cabinet
Make cabinets from architectural specifications
Make cabinets in a variety of shapes and styles
Make cabinets in a variety of colours and finishes
Fit benchtops in wood, stone, marble or laminate
Measure and quote any job in Melbourne, Victoria
Install and fit cabinets anywhere in Melbourne
Kitchen Cabinets
Cabinets for kitchens are all custom made to measure and available in a variety of colours, textures and finishes. Kitchen benchtops are also available in a variety of materials including laminates (such as Laminex), caesarstone, granite and marble. We can help you with your kitchen layout and design or work along with your builder or architect to build your kitchen.
Bathroom Cabinets
Regardless whether you're building a new house or renovating an existing house, Carlton Cabinets can measure and quote your bathroom cabinets. Bathroom cabinets and vanity units are available in a variety of styles and finishes and fully customised to suit your bathroom.
Laundry Cabinets
Custom made laundry cabinets of all sizes and shapes. We can build space saving cabinets that can expand your storage space and still let you work comfortably within a small laundry.
Wall Units and Cabinets
Custom made wall units and storage cabinets for the kitchen and living areas in the house. As Melbourne cabinet makers with over 30 years experience, we can build virtually anything you can imagine. For example, custom built wall cabinets for the home theatre/entertainment room are popular at the moment.
Custom Cabinet Makers
With well over 30 years experience as cabinet makers, we have the tools and experience to build almost anything your imagination can think up. So, if you need custom made cabinets, give us a call and we can come out to you anywhere in Melbourne.
Melbourne Kitchen and Cabinet Installation
We can install your new kitchen, bathroom or laundry cabinets anywhere in Melbourne. We can also come out to some areas of regional victoria - just give us a call and we would be pleased to measure and quote your job requirements.


Custom made-to-measure Melbourne Cabinet Makers


All our trades people are qualified professionals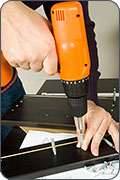 Melbourne Cabinet Makers